Commercial Roofing Services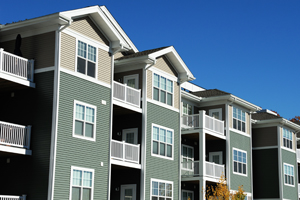 Our expert roofers can handle commercial roofing for multi-family housing, office buildings, apartment complexes, and more in the DC and surrounding areas.
Quality solutions for commercial roofing replacement, repair & installation
Many commercial properties have flat roofs and parapet walls, which can make it difficult to spot any roofing issues until it's too late and water begins leaking into the building. William Mackay Roofing urges building owners and property managers to deal with roofing problems before they can cause more substantial damage. Whether you need a roof inspection, roof repairs, a roof replacement, or a new roof, we are your local DC area commercial roofing experts.
Contact William Mackay Roofing today to set up a consultation for commercial roof repairs, replacement, or installation. If your commercial property is suffering from roof leaks, storm damage, or the wear and tear of age, we have the services you need!
Your go-to contractor for all commercial roofing work
Our commercial roofing systems
Metal roofing
EPDM roofing (rubber roofing)
Modified bitumen roofing
Asphalt shingle roofing
William Mackay Roofing will help you select the best roofing or reroofing materials for your budget and your building's unique needs. We are experienced in many different roofing types and installation techniques, and all of our roofing products are built to last. With professional service, skilled workers, and access to the best roofing materials, we will ensure that your commercial property's roof is both durable and aesthetically pleasing.
Upgrading to the right kind of commercial roof for your property will not only add valuable protection, it can also help to make your roof more efficient and help reduce your energy bills. Not to mention the boost in market value and curb appeal that will come with a beautiful new roof!
We specialize in complete commercial roofing for our customers, and our options include:
Roof inspections. Our highly-trained technicians are ready to inspect your roof and provide you with a detailed assessment of its condition.
Roof replacement. From reroofing for an old or damaged roof to brand new roof installation, we do it all.
Roof repair and maintenance. Our commercial roof maintenance and repair services include flashing repair and replacement, roof leak repair, wind damage repair, and more.
Roofing system expertise. All of our available roofing materials and treatments are of the highest quality, and we have experience in the best installation methods.
Here at William Mackay Roofing, we want to earn your commercial roofing business by exceeding your expectations. When you work with us, you can count on exceptional customer service, knowledgeable workers, and industry-leading roofing products at competitive prices. Call your local DC and surrounding area experts today to schedule a free estimate for any of our commercial roofing services!