Gutter & Downspout Installation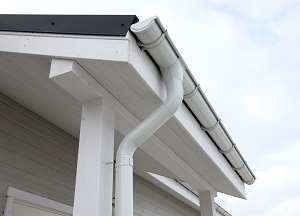 We provide gutter systems to protect against roof damage, soil erosion, and basement flooding.
Protect your home from water damage with quality gutter solutions
William Mackay Roofing offers expert gutter installation and gutter maintenance to provide the weather protection you need for your home in the DC and surrounding areas. We install high-quality gutters and downspouts in a variety of materials, manufactured for both durability and aesthetic appearance. Our gutter systems will never clog or overflow and will keep your home safe from water damage.
If you need gutter services for your home, the experts at William Mackay Roofing can recommend the right solutions. Contact us today to schedule your free estimate for gutter installation or maintenance!
Complete gutter services for your home
We provide gutter replacement and installation with a selection of styles and materials. Our custom gutter solutions are measured to fit the exact specifications of your home, and we will complete a thorough inspection before beginning the project. Our durable seamless gutters will stay watertight and sturdy for years to come and will make gutter cleaning a chore of the past. Best of all, we can match the style and color of your gutter replacement so that it perfectly fits your siding and roof for a beautiful home exterior.
Our gutter options
Aluminum gutters
Copper gutters
Gutter guards
Aluminum gutters will stay maintenance-free for the long-term
Seamless aluminum gutters are custom cut to the required length and are highly durable. Not only will they never rust or corrode, they also come with a factory-applied finish that is available in a variety of colors. Aluminum gutters are affordable while providing equal performance to other gutter systems.
Copper gutters provide beautiful craftsmanship and quality
Copper gutters and downspouts can add a lovely aesthetic to your home's exterior and can be the perfect finishing touch to an exterior remodeling project. These durable gutters are resistant to rust and corrosion, and the joints in copper gutters are soldered together so you never need to worry about leaks.
Get professional gutter maintenance and installation for your home today
Gutters that frequently clog can be a serious problem, leading to overflow and basement flooding as well as damage to your roof, siding, and home exterior. Gutter guards, a protective gutter covering that allows water to enter but blocks debris such as leaves and twigs, is an effective solution to eliminate the risk of overflowing gutters. William Mackay Roofing can install gutter guards for your current gutter system in order to protect your home from moisture damage, or we can include them during your gutter installation project.
Are you tired of cleaning out your clogged, overflowing gutters? Contact the local DC and surrounding area experts at William Mackay Roofing today to find out more about our gutter services and to schedule your free cost estimate. From gutter guards to complete gutter replacement, we do it all.